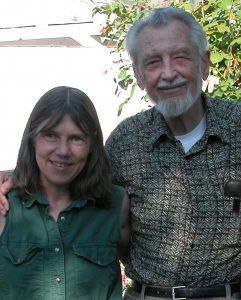 I grew up in Chicago, where I was heavily involved in the arts, and had jobs as a journalist, proofreader, and theatre lighting technician, was program assistant at WFMT, repaired reed instruments, practiced photography and taught it in a program for disadvantaged inner city youth, was a manager at a blues club, and played sax in a jazz band. I also co-founded an animal rights group, and helped set up the Treehouse no-kill animal shelter (which is still going strong today). And I began my spiritual journey, studied meditation and yoga, and later briefly taught it.
I then married, moved to a farm in southern Illinois, and spent 10 years cultivating extensive gardens, studying nature, traveling, and exploring various spiritual teachers and practices.
In the late 90s, I had the opportunity to spend periods of time in Sebastopol helping Al out, soon realized I belonged there, and have never left. I worked as a gardener and photo assistant, and also continued to create various garden spaces on the 3-acre property to stay connected to nature. But it also became a period of great intensity and expansion, in both my relationship to Al and my spiritual practices. I became heavily involved in the Gold Ridge Sangha (Tibetan Buddhism), and was given the opportunity for a year-long retreat there, which Al supported. Afterward, I went on more retreats in India, Nepal and Sikkim. I also spent a year in shamanic courses.
To say that meeting Al was a powerful event in my life would be to understate it. He was unlike anyone I had ever met, and it was a grand syzygy that I soaked up. He had a brilliant mind that it seemed no one could keep up with, an openness and curiosity towards everything and everybody, an infectious playfulness, a great modesty and generosity, and a huge heart. He had several prestigious jobs and awards, but hated the spotlight. He loved this place and we spent much time exploring the surrounding hills, vineyards, forests and countryside. We joined a Buddhist sangha and shared explorations into many different spiritual paths and he embraced them all. We spent time together every day and talked endlessly. He would describe wondrous hidden worlds that he was discovering buried in mathematics that exploded my imagination. To me he became a father figure, a teacher, a close friend. He began a ritual of greeting each other with "arigato" (thank you) and a big smile. And it was with this respect he treated everyone. When his health began to fail and I had the opportunity to care for him, he gave me one of the greatest gifts of all. He lived fully and died gracefully, and it was an honor and a blessing to have known him.
Moving forward since then has sometimes been a struggle, but I can just imagine Li Kiang (aka Al) looking down on me and saying: "There are no blueprints for the future. Just embrace the unknown one step at a time. What more could you ask for?" For that's what brought me to meet and know this extraordinary man.
Arigato, arigato, Al